If you're like most people, you likely have a few favorite pieces of jewelry. Whether it's a necklace your grandmother gave you a lifetime ago or earrings your spouse surprised you with on your first Valentine's Day together, jewelry is an easy way to associate a beloved memory with your everyday life. Still, you need to leave room for new memories to be made, and keeping on top of new trends can help you have those same sorts of associations.
By learning the ins and outs of what pieces are making the bestseller list at the most iconic stores and runways across the globe, you'll be ready to shop necklaces, bracelets, and other accessories with a fashion-forward focus and an openness to what's still to come.
Look to your favorite celebrities.
With the constant stream of updates that makes up our highly digitized lives, it's easy to find out what your favorite celebrities are up to at any given moment—and what they're wearing while they do it. Maybe you love Kate Middleton's effortless elegance or Zendaya's incomparable street style.
The next time your personal fashion icon pops up on Instagram or in an Apple News update, take some time to study the images provided. The Duchess of Cambridge might adorn a simple diamond necklace, while The Greatest Showman star may opt for a bolder statement piece. You might not find that exact piece of jewelry in your price range, but you're sure to find something with a similar effect.
Read up on the fashion industry.
You don't need to go back to college with a major in fashion design to stay on top of trends in accessories and style in more general terms. Instead, you have a simple tool at your disposal—simply pick up a fashion magazine! From the cover image and interior photos to the advertisements featured in the most recent issue of Vogue or Marie Claire, your favorite magazine will undoubtedly show you some of the trendiest options in fine jewelry, inspiring your own shopping choices.
Tune in to the season's biggest events.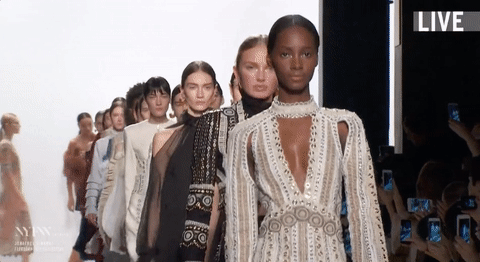 Maybe you can't fly into Fashion Week, but you can check out live-streamed events or recaps and other coverage after the fact. The runway is packed with the latest and greatest styles from highly acclaimed designers—it's hard to imagine a better place to the perfect jewelry to keep up with the most recent trends. This is another sort of inspiration that will likely be out of your price range, but it's certainly one you can keep in mind while you shop.
Scroll through social media.
Whether you're looking for updates on that favorite fashionable celebrity or you're simply scrolling out of boredom on your lunch break, take some time to study the necklaces, bracelets, and other pieces featured throughout your social media feeds. You might fall in love with an influencer's rose gold pendant or stumble into #WitchTok and find yourself exploring the world of gemstone necklaces. On whoever's profile that you land and wherever a certain post takes you, you can assume you'll find something worth searching for.
 When it comes to making and recalling memories, a necklace, bracelet, or ring associated with a particular occasion is one of the most poignant ways you can remind yourself of special moments over time. To make the most of whatever events come your way, take some time to browse the trendiest pieces available now and invest in some of your favorites—or at least options inspired by your pricier favorites. When you look at that current bestseller a few years from now, you won't just see citrine or sapphire: You'll envision the people you love, places you go, and the version of you you are in this moment.